XLPE Insulated Copper Tape Screen Control Cable
Low voltage XLPE Contral Cable designed for equipments controlling
Application
The cables are designed for connection wires of power distribution equip-ments for controlling, monitoring, protecting circuits with A.C. rated voltage 450/750V (0.6/1kV)and below.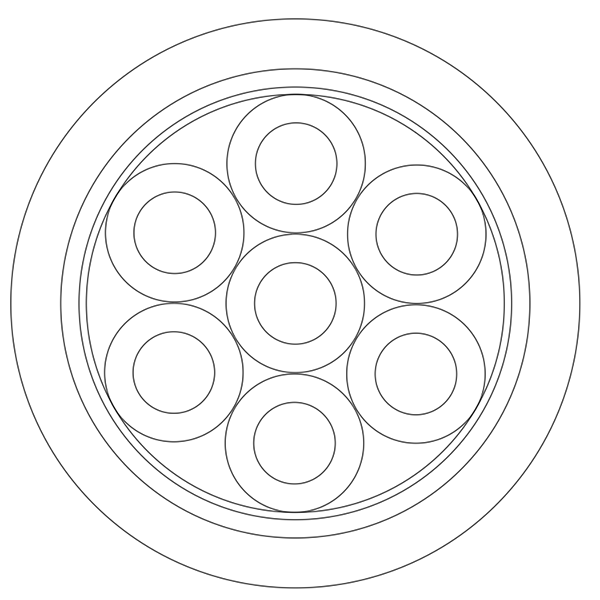 conductor: Plain annealed solid copper or stranded
Insulation: XLPE
Binder tape: Non-hygroscopic
Filler: Non-hygroscopic
Metallic Screen: Copper tape
Sheath: PVC
Rated voltage Uo/U is 450/750V(600/1000V).
Allowed continuous working temperature of conductor is 90℃
Installation temperature of cables should be no less than 0℃, Bending radius should be not less than 12 times O.D. of cable.
Max. Temperature of conductor (Max. 5sec. duration) should be not more than 250℃.
Product range
Descriptions
Rated
Nom. area of conductor (mm2)
voltage
0.75
1
1.5
2.5
4
6
10
V
No .of cores
Copper conductor XLPE insulated and PVC sheathed control cable
450/750
2~61
2~61
2~61
2~14
2~14
2~14
2~10
Copper conductor XLPE insulated and PVC sheathed flexible control cable
450/750
2~61
2~61
2~61
2~14
2~14
2~14
2~10
Copper conductor XLPE insulated and PVC sheathed control cable with copper tape lapping screen
450/750
2~61
2~61
2~61
2~14
2~14
2~14
2~10
Copper conductor XLPE insulated and sheathed copper wire braiding shielded flexible control cable
450/750
2~61
2~61
2~61
2~14
2~14
2~14
2~10
Copper conductor XLPE insulated PVC sheathed copper tape shielded control cables
450/750
2~61
2~61
2~61
2~14
2~14
2~14
2~10
Copper conductor XLPE insulated and PVC sheathed flexible control cable with copper tape lapping screen
450/750
2~61
2~61
2~61
2~14
2~14
2~14
2~10
Copper conductor XLPE Insulated PVC Sheathed Copper Tape shielded steel tape armored Control Cables
450/750
4~61
4~61
4~61
4~14
4~14
4~14
4~10
Copper conductor XLPE insulated PVC sheathed steel tape armored control cables
450/750
4~61
4~61
4~61
4~14
4~14
4~14
4~10
Copper conductor XLPE insulated PVC sheathed steel wire armored control cables
450/750
4~61
4~61
4~61
4~14
4~14
4~14
4~10
Technical Parameter
Cores x nom. vross-section
mm2
Conductor category
Nom. thickness of sheath            mm
Approx. OD
mm
Approx. weight                  kg/km
4×1.5
1
1.5
10.1
149.1
4×2.5
1
1.5
11.9
212.7
4×4.0
1
1.5
13
283.5
4×6.0
1
1.5
14.2
372.2
5×1.5
1
1.5
11.7
188.1
5×2.5
1
1.5
12.8
246.3
5×4.0
1
1.5
14.1
334.9
5×6.0
1
1.7
15.4
442.4
6×1.5
1
1.5
12.5
217
6×2.5
1
1.5
13.8
287.5
6×4.0
1
1.5
14.9
389.6
6×6.0
1
1.7
16.7
521.9
7×1.5
1
1.5
12.5
226.7
7×2.5
1
1.5
13.8
303.9
7×4.0
1
1.5
14.9
416.9
7×6.0
1
1.7
16.7
563.6
8×1.5
1
1.5
13.4
256.3
8×2.5
1
1.7
15
346.9
8×4.0
1
1.7
16.3
476.4
8×6.0
1
1.7
18
643.2
10×1.5
1
1.7
15.4
319.4
10×2.5
1
1.7
17.1
432.4
10×4.0
1
1.7
19.3
615.1
10×6.0
1
1.7
21.5
831.4
12×1.5
1
1.7
15.9
350.1
12×2.5
1
1.7
17.6
477.5
12×4.0
1
1.7
19.9
687.2
12×6.0
1
1.7
22.1
933.7
14×1.5
1
1.7
16.7
394.1
14×2.5
1
1.7
18.9
557.3
14×4.0
1
1.7
20.9
781.9
14×6.0
1
1.7
23.2
1067
16×1.5
1
1.7
17.5
443.2
16×2.5
1
1.7
19.8
628.7
19×1.5
1
1.7
18.7
516.4
19×2.5
1
1.7
20.7
713.8
24×1.5
1
1.7
21.6
637.6
24×2.5
1
1.7
24.2
885.8
27×1.5
1
1.7
22.1
697.4
27×2.5
1
1.7
24.5
973.5
30×1.5
1
1.7
22.9
760.3
30×2.5
1
2
25.4
1065.4
37×1.5
1
1.7
24.5
904.4
37×2.5
1
2
27.9
1314.1