FAA L-824 Type C sheathed 5kV Cable
FAA L-824 Type C used in Airport Lighting Field
Application
FAA L-824 Type C sheathed 5kV Cable are used for interconnecting the transformers and the current regulator of airfield lighting systems in series circuits, suitable for fixed applications such as taxiways, runways, navigational aids, and obstruction lighting. They can be installed in conduit and direct burial.
FAA L-824 Type C ,ICEA S-96-659,NEMA WC71 .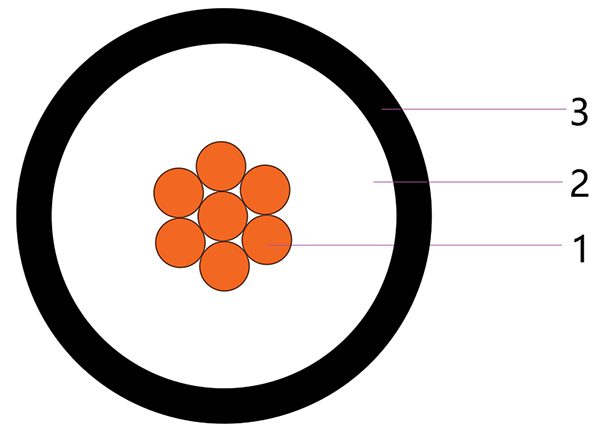 Conductor: Stranded bare or tinned copper.
Insulation: XLPE
Sheath : PE/PVC
Rated voltages U0/U: 5kV.
Note:U0 :Rated power-frequency voltage between conductor and earth or armour, metal sheath or screen for which the cable is suitable.
U :Rated power-frequency voltage between phase conductors for which the cable is suitable.
Temperature Rating: Fixed : -40℃~90℃
Maximum conductor temperature in normal operation:≤90℃
Test Voltage: 13kV 5min No Breakdown, according to ICEA S-96-659(NEMA WC71).
Max operating temperature of con. When cable short-circuited(5s maximum duration): 250℃.
Permissible minimum bending radius: Static: 10 x OD. Dynamic: 20×OD
Note: OD. =Overall Diameter of Cable
Size
mm2/AWG
Conductor
Insulation
Sheath
Approx. Weight
Maximum Conductor DC Resistance 20℃
Ω/km
Structure
No.
Approx.OD.
mm
Nominal Thickness
mm
Approx.OD0.
mm
Nominal Thickness
mm
Approx.OD.
mm
CU
kg/km
1×6 mm2
7
3.12
2.3
7.72
0.8
9.9
126
3.08
1×8AWG
7
3.69
2.3
8.29
0.76
10.1
154
2.144
1×6AWG
7
4.68
2.3
9.28
0.76
11
211
1.348
1×4AWG
7
5.88
2.3
10.48
1.14
13
315
0.8481