Established in 1996
Electric conductor and cable China manufacturer
Focusing on electric wire and cable industries, Xinfeng will keep investment into new technology for new wire and cable products. Offering customers quality products and professional service. Growing together with customers for better world and better future.
Over the past three decades, China's economy has experienced a phenomenal growth trajectory. In this era of rapid development, the importance of robust infrastructure cannot be overstated. Crucial to the advancement of industry and commerce, infrastructure projects have served as the backbone of China's progress.
As the country embarked on endeavors to expand its transportation network, including the construction of extensive road networks, railways, airports, and seaports, the need for efficient power transmission systems became apparent. It is within this context that Xinfeng, a leading cable manufacturer, emerged on the scene in 1996.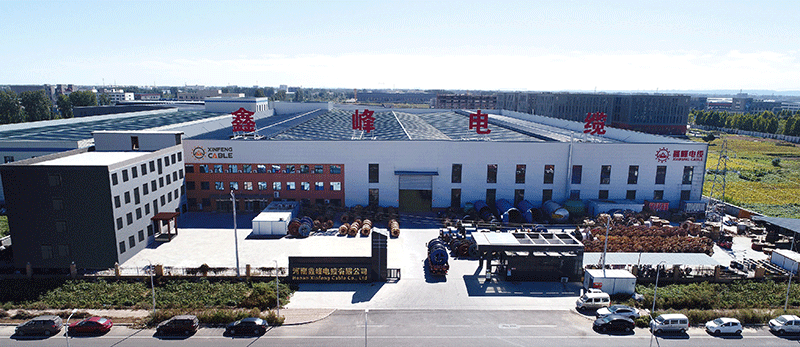 Since its establishment, Xinfeng has been at the forefront of the wire and cable industry, adapting and evolving to meet the ever-growing demands of local industries. Fueled by a commitment to innovation and continuous improvement, we have consistently introduced cutting-edge technologies, expanding our product offerings and enhancing our capabilities. By staying ahead of market trends, we ensure that our customers benefit from the latest advancements and can effectively navigate dynamic industry landscapes.
Xinfeng focus extends beyond traditional industries such as real estate, transportation, chemical plants, mining, oil, water, and power plants. We are also deeply involved in emerging sectors that are shaping the future, including new energy, photovoltaic, and energy storage. As society undergoes a transformative shift towards sustainable practices, we are dedicated to supporting the development and adoption of clean energy solutions.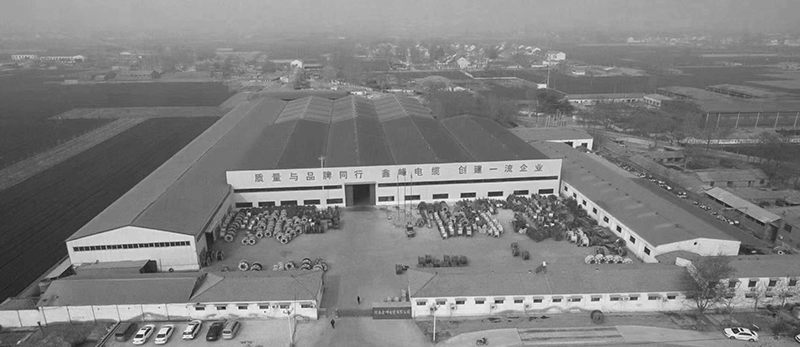 Driven by a pursuit of excellence, Xinfeng has built an extensive network of trusted suppliers for raw materials, packaging, equipment, tools, and transportation. This strategic collaboration allows us to streamline our production processes, optimize efficiency, and deliver products with the utmost precision and quality. We take pride in our ability to meet stringent industry standards and provide tailored solutions that cater to specific customer requirements.
With our customer-centric approach, we have established four offices in different cities and a state-of-the-art distribution center. This strategic presence enables us to maintain close proximity to our clients, ensuring effective communication, prompt response times, and efficient logistics. Our commitment to global expansion is underscored by our ability to design and manufacture cables that comply with different international standards, catering to diverse markets and geographical regions.
As a testament to our unwavering dedication to customer satisfaction, Xinfeng places great emphasis on export services. Leveraging our expertise in logistics and supply chain management, we offer efficient and reliable delivery options, including sea, truck, air, and road transportation. This comprehensive approach allows us to serve customers worldwide, delivering our high-quality products to any destination with utmost care and precision.
In an era defined by rapid technological advancements and evolving customer needs, Xinfeng stands ready to embrace new challenges and seize emerging opportunities. Through our unwavering commitment to innovation, quality, and customer satisfaction, we aim to remain at the forefront of the wire and cable industry, driving progress, and contributing to the success of our customers all over the world.
Quality Management System
Xinfeng has always placed great emphasis on the quality of its products and services. As such, we have established a comprehensive Quality Management System (QMS) to ensure that our products and services consistently meet or exceed the expectations of our customers.
Our QMS covers all aspects of our operations, including design, development, manufacturing, sales, and service. We have implemented strict quality control procedures throughout the entire production process, from the selection of raw materials to the final inspection and testing of finished products.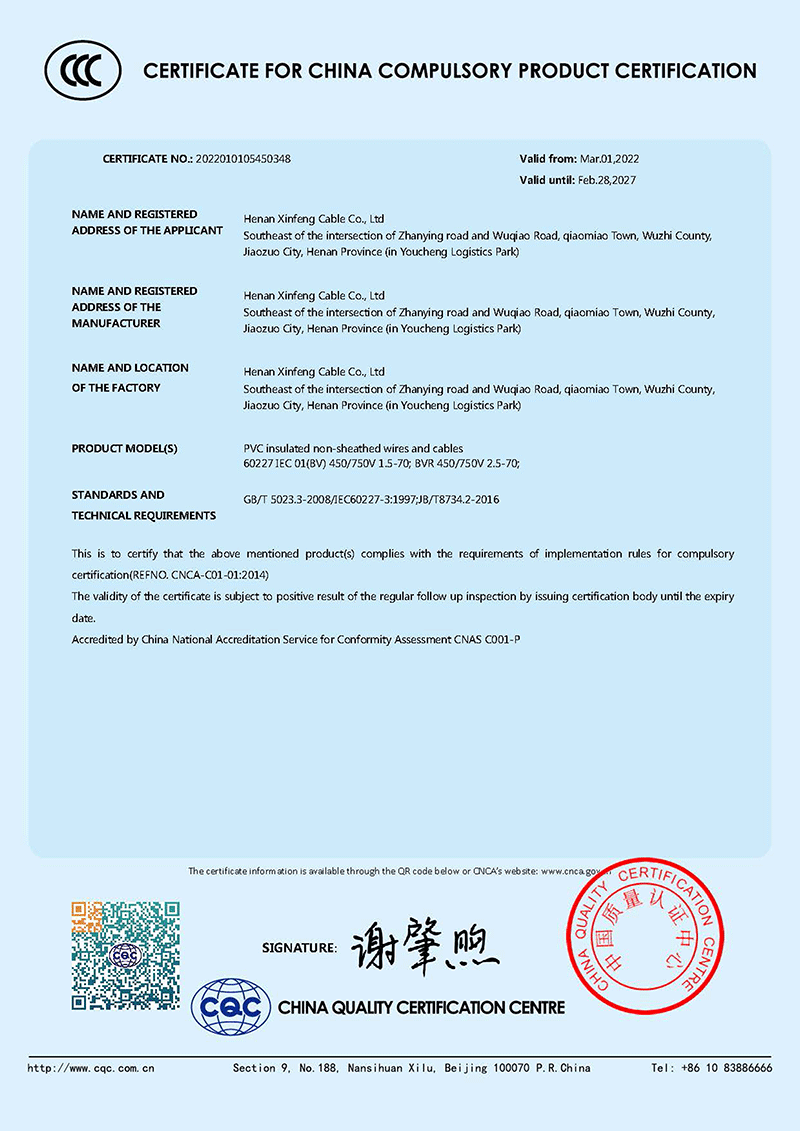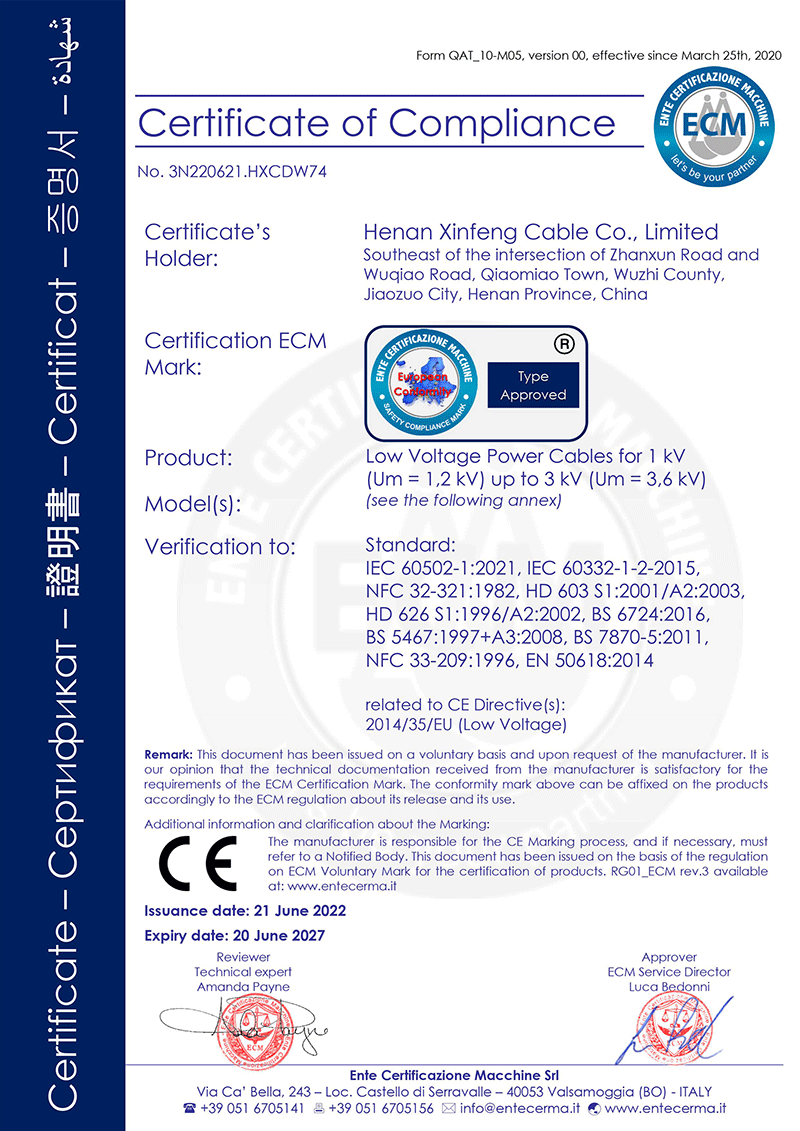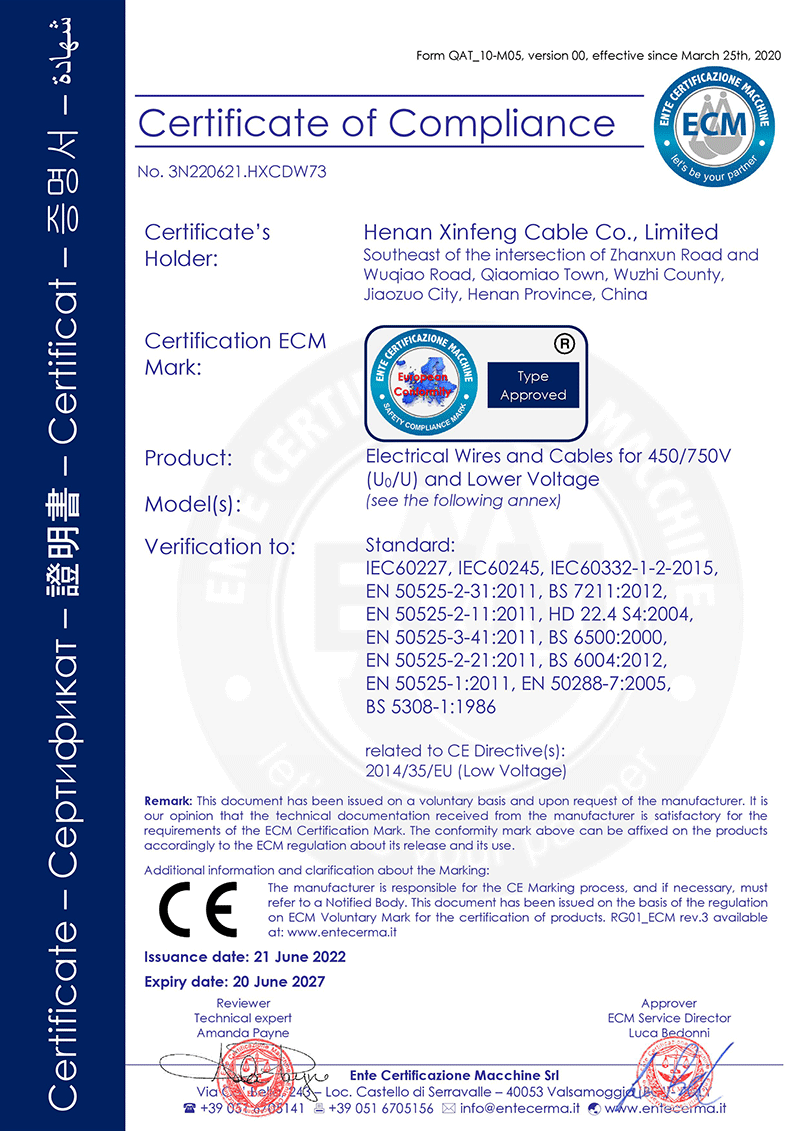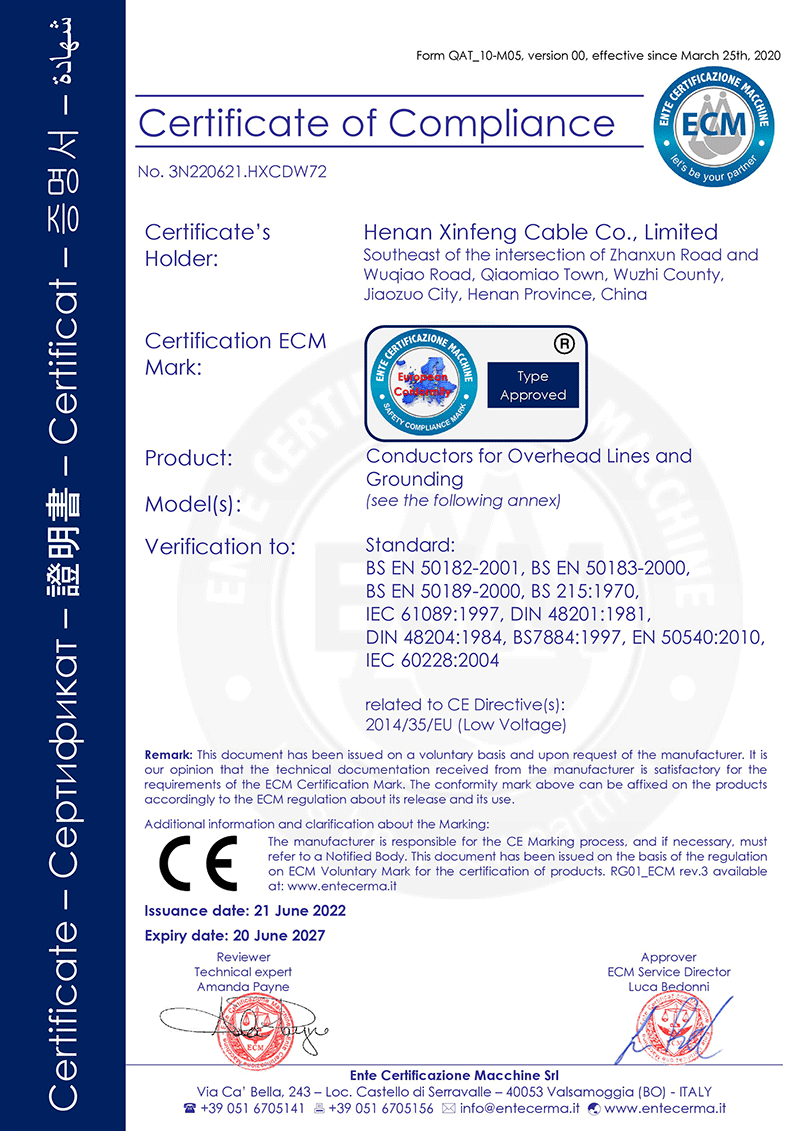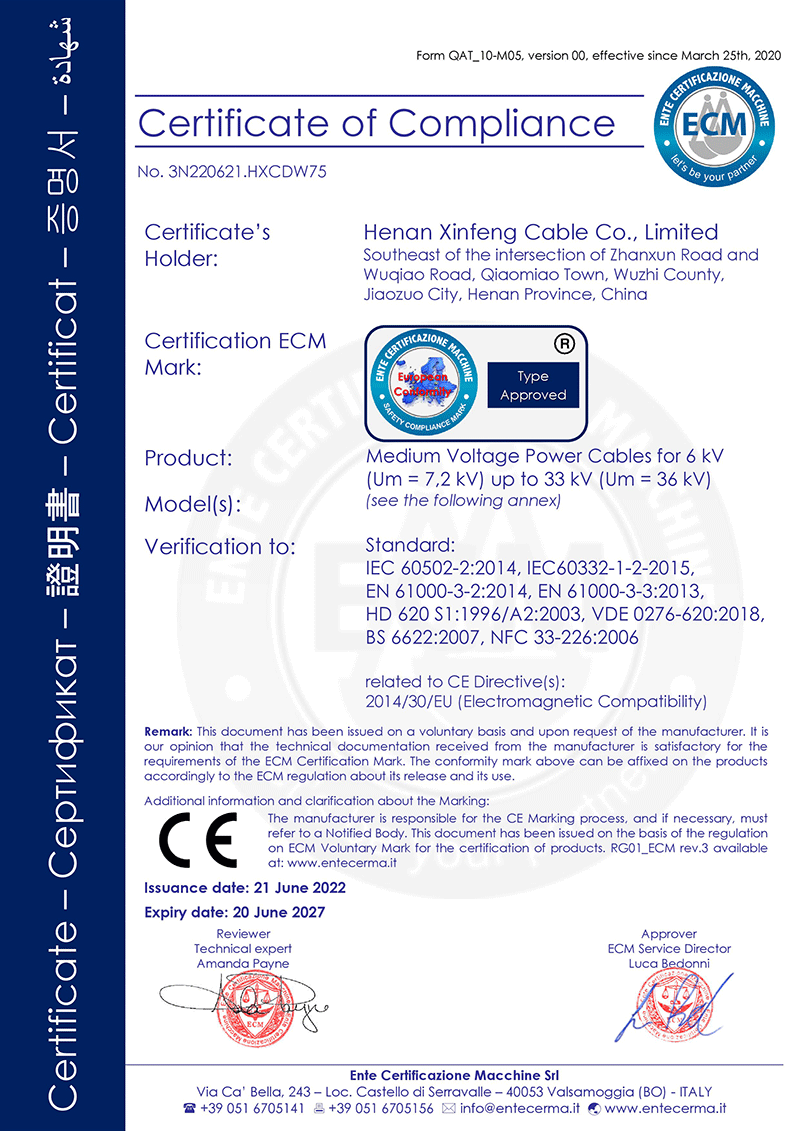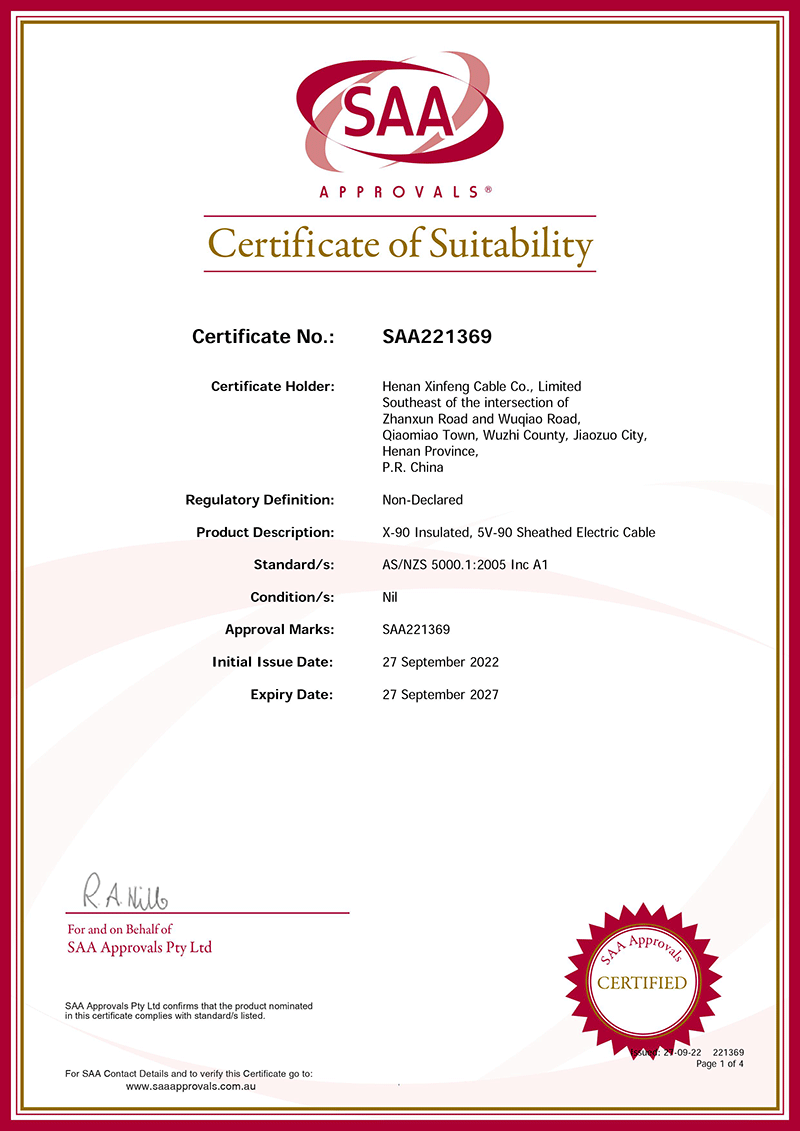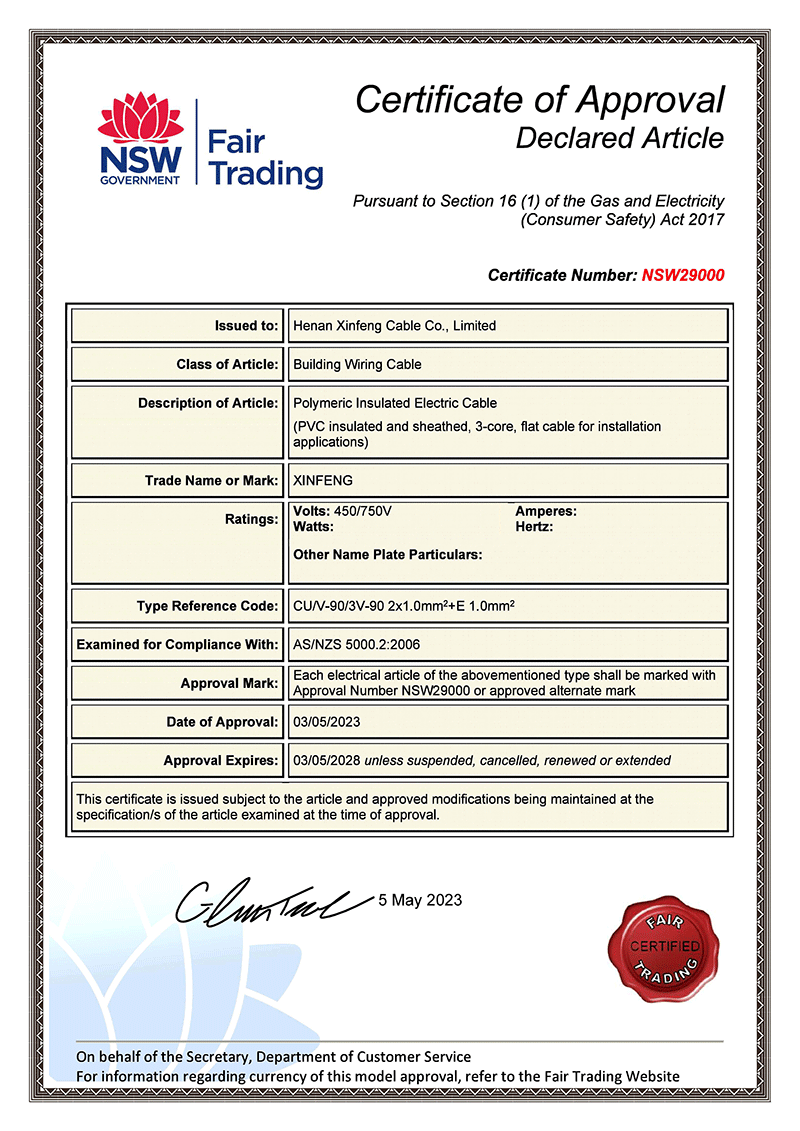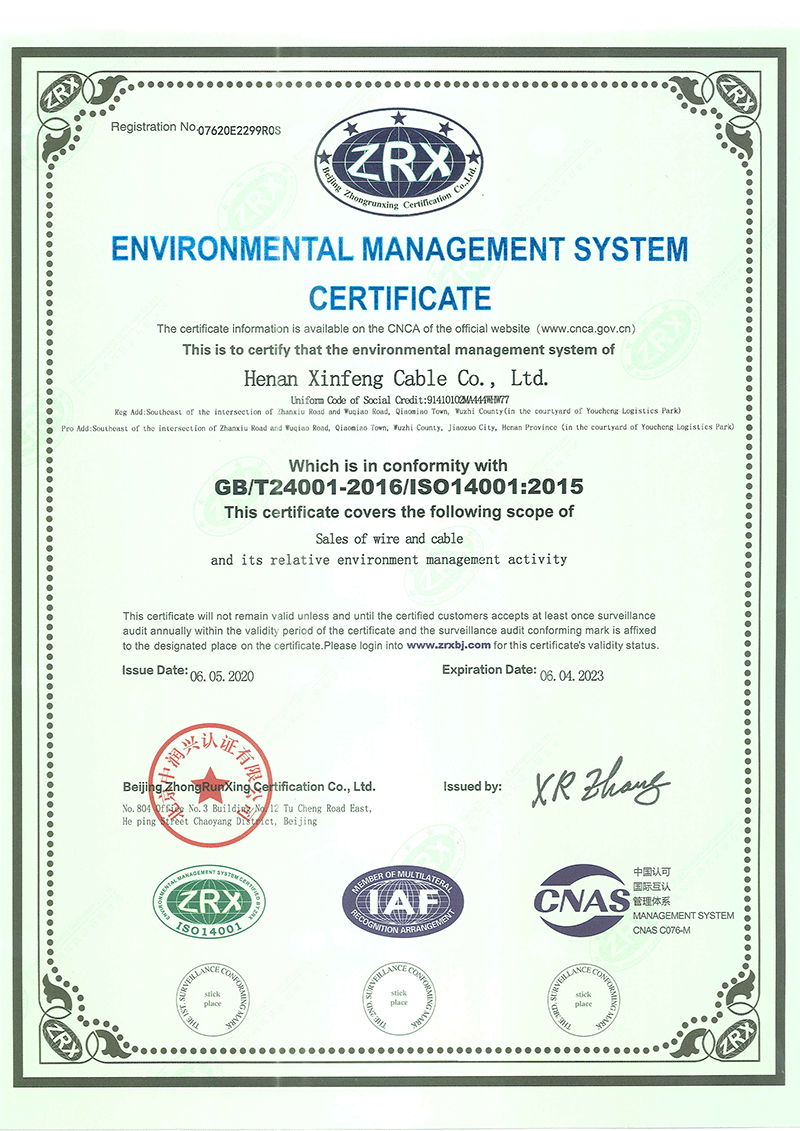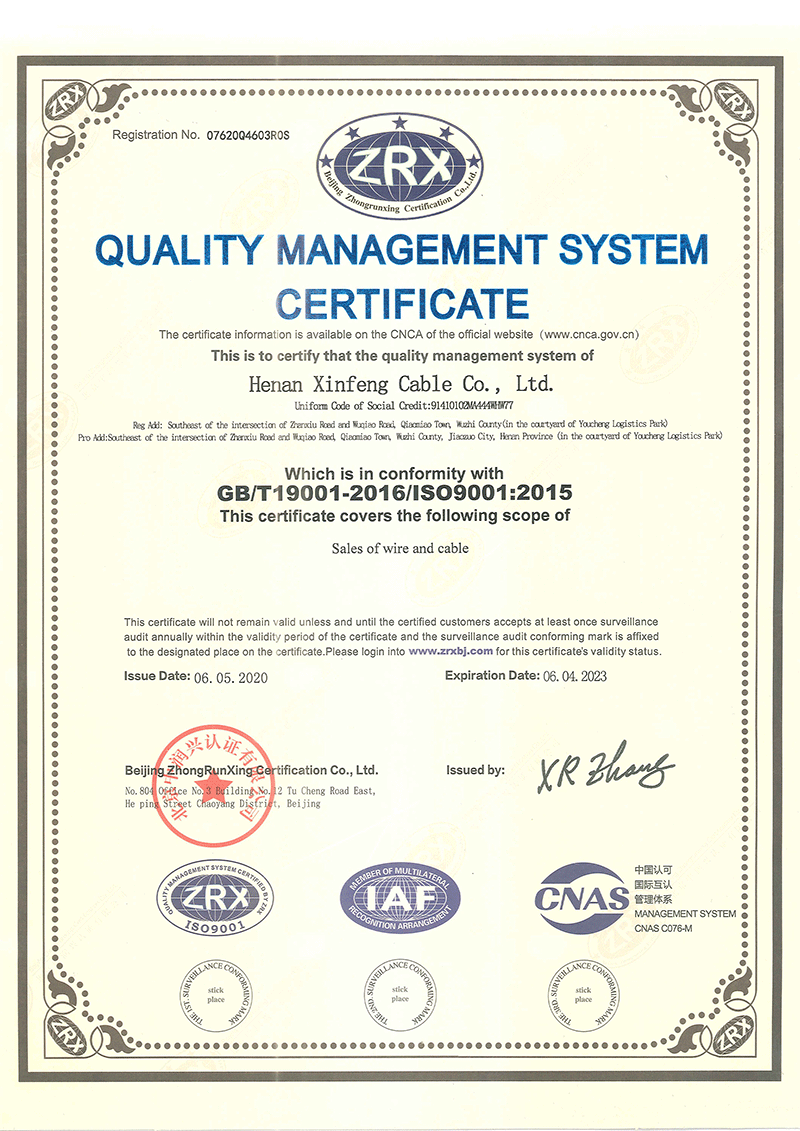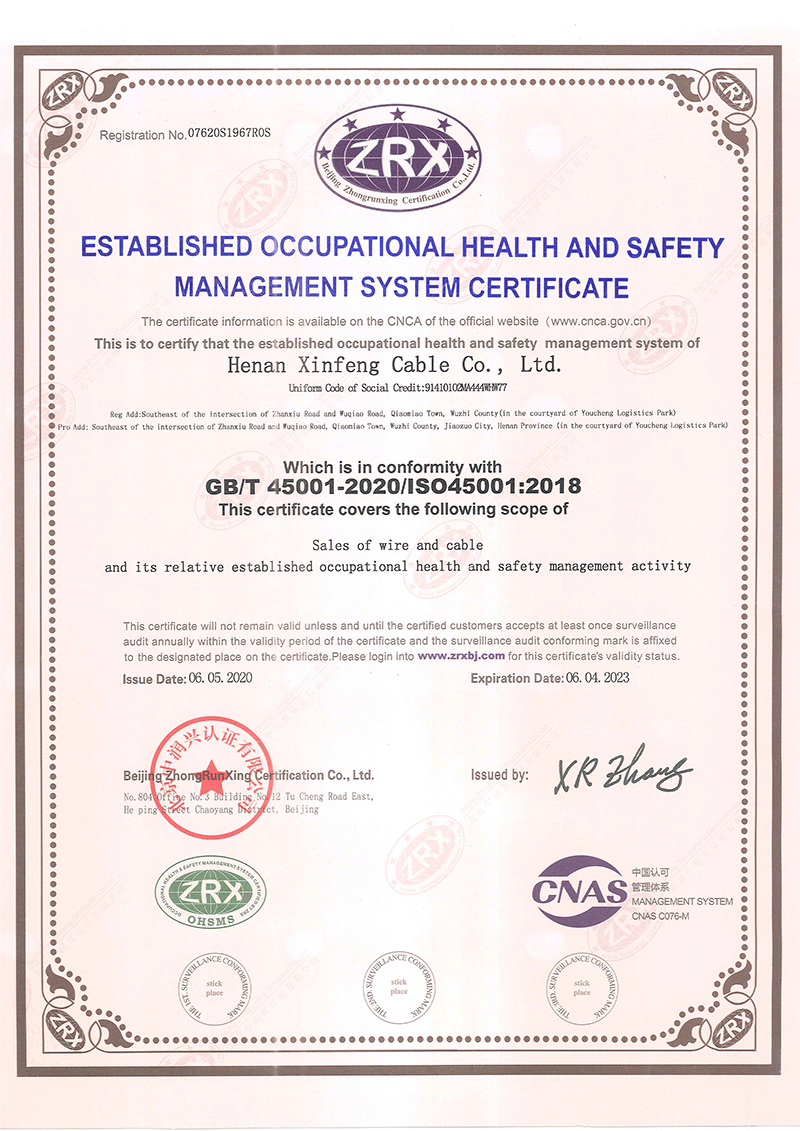 Xinfeng takes great pride in its ability to produce cables that adhere to the highest quality standards of each country we serve. Recognizing that different regions may have specific requirements and regulations in place, we have implemented a robust quality control system to ensure compliance and deliver products that meet the stringent criteria of each market.
Our dedicated team of experts stays up-to-date with the latest industry standards and regulations in various countries. We conduct thorough research and analysis to understand the specific quality and safety requirements applicable to each region. This includes factors such as electrical performance, insulation properties, flame resistance, environmental sustainability, and more.
To meet these diverse standards, we employ advanced manufacturing processes and utilize high-quality raw materials sourced from reputable suppliers. Our production facilities are equipped with state-of-the-art machinery and technology, allowing us to consistently manufacture cables that meet or exceed the quality benchmarks set by regulatory bodies and industry organizations.
Furthermore, we have a stringent quality assurance process in place at every stage of production. From rigorous material testing and selection to comprehensive in-process inspections and final product testing, we ensure that each cable leaving our facility meets the required specifications. Our quality control team performs various tests, including electrical conductivity, insulation resistance, voltage withstand, mechanical strength, and environmental performance, to ensure the reliability and durability of our cables.
By strictly adhering to country-specific quality standards, we provide our customers with the assurance that our cables are designed and manufactured to meet their specific needs and regulatory requirements. This approach enables us to serve a wide range of industries across different countries, including but not limited to construction, manufacturing, infrastructure development, energy, telecommunications, and transportation.
Xinfeng`s commitment to quality extends beyond compliance. We continuously strive for excellence and are dedicated to improving our processes, embracing new technologies, and fostering a culture of continuous improvement. This ensures that our customers receive products of the highest quality, backed by reliable performance and long-lasting durability.
By producing cables in strict accordance with the quality standards of each country, Xinfeng not only meets regulatory requirements but also demonstrates our commitment to customer satisfaction, safety, and reliability. We take pride in delivering cables that not only perform exceptionally well but also provide peace of mind to our customers, enabling them to confidently integrate our products into their projects and applications.
Golden Sun Cable (The predecessor of Xinfeng) was
established in Zhengzhou, Henan Province.
Xinfeng started production for electrical wire and aerial conductor.
Xinfeng ISO9001 certificated.
Xinfeng got ISO14001 and ISO18001 certificated.
Xinfeng started production of low voltage and medium Voltage cable.
Xinfeng was relocated to Dafeng Village of Jiaozuo.
Xinfeng added more production lines to meet the needs of its expanding business. 
Xinfeng set sales branches in Wuhan & Xian City for local marketing and service offering.
Xinfeng exported to more than 20 countries.
Xinfeng's annual sales exceed $50 million.
Xinfeng was relocated and extended the production scale.
Xinfeng set sales branch in Chengdu City for local marketing and service offering.
Xinfeng's annual sales exceed $100 million.
Xinfeng set sales branch in Beijing to covering the market of North China.