0.6/1kV PVC Insulated Steel Tape Armoured Cable
All type of Low Voltage Power cable coule be manufactured by Xinfeng Cable
Application
These cables are used for electricity supply in low voltage installation system, they are suitable for installation in indoors and outdoors, in cable ducts, underground, in power and switching stations, local energy distributions, industrial plants, where there is no risk of mechanical damage.
GB/12706.1, IEC60502-1, NFC 32-321, HD 603 S1 , HD 626 S1,AS/NZS 5000.1 etc.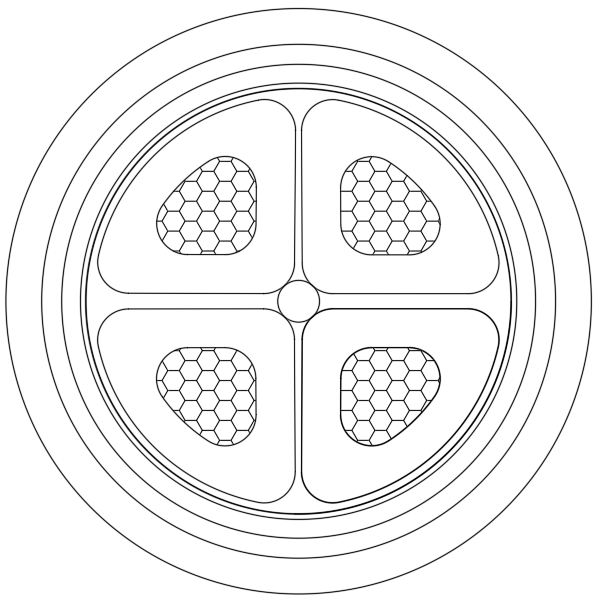 Conductor: Circular, solid, compacted or sector shaped stranded copper or aluminium
Insulation: PVC
Binder tape: Non-hygroscopic material
Filler: Non-hygroscopic material
Inner covering (bedding): Extruded PVC
Metallic armour: Double layer of galvanized steel tape
Sheath: PVC
The product is suitable for power transmission and distribution lines with rated power frequency voltage 0.6/1 kV.
Rated voltages U0/U(Um): 0.6/1 (1.2)kV.
Note:
U0: Rated power-frequency voltage between conductor and earth or armour, metal sheath or screen for which the cable is suitable.
U: Rated power-frequency voltage between phase conductors for which the cable is suitable.
Um: Maximum value of the highest system voltage between phase conductors for which the cable is suitable.
Test Voltage: 3.5kV 5min No Breakdown, according to IEC60502-1.
The ambient temperature for installation: ≥0℃
Maximum conductor temperature in normal operation:≤70℃
Max operating temperature of con. When cable short-circuited(5s maximum duration): 160℃
Permissible minimum bending radius:
Single unarmoured cable: 20 x OD
Multi-core unarmoured cable: 15 x OD
Single armoured cable: 5 x OD
Multi-core armoured cable: 12 x OD
Note : OD=Overall Diameter of Cable
Product Range
General type
VDE type
Designation
Application
CU/PVC/PVC (AL/PVC/PVC)
NYY(NAYY)
Cu conductor(Al conductor)PVC insulated PVC sheathed power cable
Laying indoors, in tunnel, fixed on the bracket, pipe and buried in the soil, the cable cannot bear external mechanical forces.
CU/PVC/PE (AL/PVC/PE)
NY2Y(NAY2Y)
Cu conductor(Al conductor)PVC insulated PE sheathed power cable
CU/PVC/STA/PVC (AL/PVC/STA/PVC)
NYBY(NAYBY)
Cu conductor(Al conductor)PVC insulated double of steel-tape armored PVC sheathed power cable
For laying indoors, in tunnel, cable trench, or direct in ground, able to bear external mechanical forces, but unable to bear large pulling force.
CU/PVC/STA/PE (AL/PVC/STA/PE)
NYB2Y(NAYB2Y)
Cu conductor(Al conductor)PVC insulated double of steel-tape armored PE sheathed power cable
CU/PVC/ATA/PVC (AL/PVC/ATA/PVC)
NYBY(NAYBY)
Cu conductor(Al conductor)PVC insulated double of aluminium-tape armored PVC sheathed power cable
CU/PVC/ATA/PE (AL/PVC/ATA/PE)
NYB2Y(NAYB2Y)
Cu conductor(Al conductor)PVC insulated double of aluminium-tape armored PE sheathed power cable
CU/PVC/SWA/PVC (AL/PVC/SWA/PVC)
NYRY(NAYRY)
Cu conductor(Al conductor)PVC insulated steel-wire armored PVC sheathed power cable
For laying indoors, in tunnel, cable trench, well or direct in ground, able to bear external mechanical forces and certain pulling force.
CU/PVC/SWA/PE (AL/PVC/SWA/PE)
NYR2Y(NAYR2Y)
Cu conductor(Al conductor)PVC insulated steel-wire armored PE sheathed power cable
CU/PVC/AWA/PVC (AL/PVC/AWA/PVC)
NYRY(NAYRY)
Cu conductor(Al conductor)PVC insulated aluminium-wire armored PVC sheathed power cable
CU/PVC/AWA/PE (AL/PVC/AWA/PE)
NYR2Y(NAYR2Y)
Cu conductor(Al conductor)PVC insulated aluminium-wire armored PE sheathed power cable
Product parameters
Nominal section area
mm2
Approx. overall diameter
mm
Approx. weight of cable
kg/km
Maximum DC resistance of the conductor
Ω/km
Cu
Al
20℃ Cu
20℃ Al
1×1.5 RE
9
160.2
–
12.1
–
1×2.5 RE
9.4
178.5
135.7
7.41
12.1
1×4 RE
10.3
202.6
178.4
4.61
7.41
1×6 RE
10.8
232.4
196.2
3.08
4.61
1×10 CC
11.8
292.1
231.7
1.83
3.08
1×16 CC
12.8
368.1
271.5
1.15
1.91
1×25 CC
14.4
481.1
326.4
0.727
1.2
1×35 CC
15.4
595.4
378.8
0.524
0.868
1×50 CC
17.2
782.2
472.9
0.387
0.641
1×70 CC
18.8
1002.1
569
0.268
0.443
1×95 CC
20.7
1285
697.2
0.193
0.32
1×120 CC
22.2
1548
805.6
0.153
0.253
1×150 CC
24.1
1879.8
951.7
0.124
0.206
1×185 CC
26.2
2264.9
1120.3
0.0991
0.164
1×240 CC
28.9
2853.8
1369
0.0754
0.125
1×300 CC
31.6
3493.6
1637.5
0.0601
0.1
1×400 CC
35.2
4530.9
2056.1
0.047
0.0778
1×500 CC
40.2
5966.8
2873.3
0.0366
0.0605
1×630 CC
43.9
7302.1
3404.3
0.0283
0.0469
2×1.5 RE
12
217.7
–
12.1
–
2×2.5 RE
12.8
254.4
223.3
7.41
12.1
2×4 RE
14.5
331.3
281.5
4.61
7.41
2×6 RE
15.5
397.5
322.9
3.08
4.61
2×10 CC
17.6
548.1
423.7
1.83
3.08
2×16 CC
19.6
704.2
505.3
1.15
1.91
2×25 CC
22.8
954.8
643.9
0.727
1.2
2×35 CC
24.8
1184.3
749
0.524
0.868
2×50 SM
22.6
1405.6
783.8
0.387
0.641
2×70 SM
25.1
1842.1
971.5
0.268
0.443
2×95 SM
30.1
2707.3
1525.9
0.193
0.32
2×120 SM
32.3
3252.4
1760.1
0.153
0.253
2×150 SM
35.5
3959.1
2093.7
0.124
0.206
2×185 SM
38.8
4767.3
2466.7
0.0991
0.164
2×240 SM
43.8
6103.7
3119.1
0.0754
0.125
2×300 SM
48.3
7453.4
3722.7
0.0601
0.1
3×1.5 RE
12.4
252.3
–
12.1
–
3×2.5 RE
13.3
300.7
254
7.41
12.1
3×4 RE
15.2
394.5
319.9
4.61
7.41
3×6 RE
16.3
487
375.1
3.08
4.61
3×10 CC
18.5
663.2
476.7
1.83
3.08
3×16 CC
20.7
901.8
603.3
1.15
1.91
3×25 CC
24.1
1250.7
784.3
0.727
1.2
3×35 CC
26.3
1578.1
925.2
0.524
0.868
3×50 SM
25.8
1997.4
1064.7
0.387
0.641
3×70 SM
29
2635.8
1330
0.268
0.443
3×95 SM
34.2
3799.8
2027.6
0.193
0.32
3×120 SM
37.6
4620.3
2381.9
0.153
0.253
3×150 SM
41.9
5661.4
2863.4
0.124
0.206
3×185 SM
46.8
6965.8
3514.9
0.0991
0.164
3×240 SM
52
8782.1
4305.2
0.0754
0.125
3×300 SM
57.3
10747.9
5151.8
0.0601
0.1
4×1.5 RE
13.2
291.1
–
12.1
–
4×2.5 RE
14.2
351.9
289.7
7.41
12.1
4×4 RE
16.3
469
369.5
4.61
7.41
4×6 RE
17.5
586.9
437.7
3.08
4.61
4×10 CC
20
798.9
550.2
1.83
3.08
4×16 CC
22.4
1079.7
681.8
1.15
1.91
4×25 CC
26.3
1549.9
928.1
0.727
1.2
4×35 CC
28.8
1985.4
1114.9
0.524
0.868
4×50 SM
30
2604.6
1361
0.387
0.641
4×70 SM
34.8
3778.7
2037.7
0.268
0.443
4×95 SM
39.1
4920.9
2558.1
0.193
0.32
4×120 SM
41.8
5956.6
2972
0.153
0.253
4×150 SM
46.9
7418.1
3687.3
0.124
0.206
4×185 SM
52.5
9021.2
4419.9
0.0991
0.164
4×240 SM
57.5
11374.5
5405.2
0.0754
0.125
4×300 SM
63.2
13951.3
6489.8
0.0601
0.1
5×1.5 RE
14
331.4
–
12.1
–
5×2.5 RE
15.1
404.9
327.2
7.41
12.1
5×4 RE
17.5
545.9
421.5
4.61
7.41
5×6 RE
18.9
689.4
502.8
3.08
4.61
5×10 CC
21.7
952.3
641.4
1.83
3.08
5×16 CC
24.4
1297
799.6
1.15
1.91
5×25 CC
28.7
1867.7
1090.4
0.727
1.2
5×35 CC
31.7
2417.3
1329.2
0.524
0.868
5×50 SM
32.3
3179.9
1625.4
0.387
0.641
5×70 SM
37.3
4572.2
2395.9
0.268
0.443
5×95 SM
42.4
5995.2
3041.7
0.193
0.32
5×120 SM
46.3
7399.6
3668.9
0.153
0.253
5×150 SM
51.9
9104.9
4441.4
0.124
0.206
5×185 SM
56.8
11034.8
5283.2
0.0991
0.164
5×240 SM
63.6
14001.9
6540.4
0.0754
0.125
5×300 SM
69.9
17199.6
7872.7
0.0601
0.1
Nominal section area
mm2
Approx. overall diameter
mm
Approx. weight of cable
kg/km
Maximum DC resistance of the conductor
Ω/km
Cu
Al
20℃ Cu
20℃ Al
3×4+1×2.5 RE
15.7
440.9
350.8
4.61
7.41
7.41
12.1
3×6+1×4 RE
17.2
561.9
425.1
3.08
4.61
4.61
7.41
3×10+1×6 CC
19.4
752
528.1
1.83
3.08
3.08
4.61
3×16+1×10 CC
21.8
1015.8
655.2
1.15
1.83
1.91
3.08
3×25+1×16 CC
25.3
1439.4
873.6
0.727
1.15
1.2
1.91
3×35+1×16 CC
27.1
1761
1008.6
0.524
1.15
0.868
1.91
3×50+1×25 SM
28.8
2347.5
1259.3
0.387
0.727
0.641
1.2
3×70+1×35 SM
32.1
3086.8
1563.4
0.268
0.524
0.443
0.868
3×95+1×50 SM
37.5
4451.4
2368.4
0.193
0.387
0.32
0.641
3×120+1×70 SM
40
5436.4
2762.7
0.153
0.268
0.253
0.443
3×150+1×70 SM
44
6468.9
3235.6
0.124
0.268
0.206
0.443
3×185+1×95 SM
50.2
8077.3
4035.7
0.0991
0.193
0.164
0.32
3×240+1×120 SM
55
10115.6
4892.6
0.0754
0.153
0.125
0.253
3×300+1×150 SM
60.4
12390.5
5861.7
0.0601
0.124
0.1
0.206
4×4+1×2.5 RE
17
519
404
4.61
7.41
7.41
12.1
4×6+1×4 RE
18.6
665.2
491.1
3.08
4.61
4.61
7.41
4×10+1×6 CC
21.1
902.4
616.3
1.83
3.08
3.08
4.61
4×16+1×10 CC
23.8
1230.1
769.9
1.15
1.83
1.91
3.08
4×25+1×16 CC
27.8
1759.5
1038.2
0.727
1.15
1.2
1.91
4×35+1×16 CC
30.2
2196
1226
0.524
1.15
0.868
1.91
4×50+1×25 SM
29.7
2870.2
1471.1
0.387
0.727
0.641
1.2
4×70+1×35 SM
34.3
4132.7
2174
0.268
0.524
0.443
0.868
4×95+1×50 SM
39
5440.3
2766.6
0.193
0.387
0.32
0.641
4×120+1×70 SM
42.3
6692.8
3272.9
0.153
0.268
0.253
0.443
4×150+1×70 SM
46.8
8134.3
3968.3
0.124
0.268
0.206
0.443
4×185+1×95 SM
51.8
9966.3
4774.3
0.0991
0.193
0.164
0.32
4×240+1×120 SM
57.5
12583.7
5868.3
0.0754
0.153
0.125
0.253
4×300+1×150 SM
63.4
15340.7
6946.5
0.0601
0.124
0.1
0.206
3×4+2×2.5 RE
16.5
490.8
385.1
4.61
7.41
7.41
12.1
3×6+2×4 RE
18.3
639.4
477.8
3.08
4.61
4.61
7.41
3×10+2×6 CC
20.5
850.6
589.5
1.83
3.08
3.08
4.61
3×16+2×10 CC
23.3
1161.1
738.3
1.15
1.83
1.91
3.08
3×25+2×16 CC
27
1648.8
983.4
0.727
1.15
1.2
1.91
3×35+2×16 CC
28.6
1965.7
1113.8
0.524
1.15
0.868
1.91
3×50+2×25 SM
29.6
2633.1
1389.5
0.387
0.727
0.641
1.2
3×70+2×35 SM
34.2
3800.4
2059.4
0.268
0.524
0.443
0.868
3×95+2×50 SM
38.8
5009.5
2615.6
0.193
0.387
0.32
0.641
3×120+2×70 SM
42.2
6217.1
3108.2
0.153
0.268
0.253
0.443
3×150+2×70 SM
46.6
7355.6
3687
0.124
0.268
0.206
0.443
3×185+2×95 SM
51.6
9089.8
4457.4
0.0991
0.193
0.164
0.32
3×240+2×120 SM
57.3
11402.2
5433
0.0754
0.153
0.125
0.253
3×300+2×150 SM
63.1
13997.8
6536.3
0.0601
0.124
0.1
0.206
Range of production
No. of cores: 1, 2, 3, 4, 5, 2+E, 3+E, 4+E;
Nominal cross-section (mm2): 0.5 ~ 800;