0.6/1kV XLPE Insulated Steel Wire Armoured Cable
Armoured low voltage cable manufactuer in china
Application
XLPE(Cross linked polyethylene) cable constitutes the best cable for transmission and distribution lines because of its excellent electrical and physical properties. These cables has the advantage of simplicity in construction, lightness in weight; convenience in application besides its excellent electrical, thermal, mechanical and anti-chemical corrosion properties. It can also be laid with no limitation of level difference along the route.
GB/12706.1, IEC60502-1, BS 6724, BS 7870-5,BS 5467, NFC 32-321, HD 603 S1 , AS/NZS 5000.1,AS/NZS 3599.1,AS/NZS 3599.2,IS 1554 , IS 7098 and ICEA S-66-524 etc.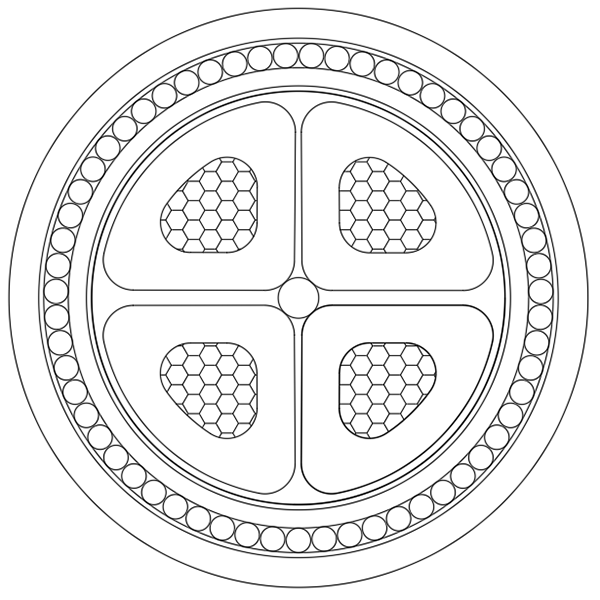 Conductor: Circular, solid, compacted or sector shaped stranded copper or aluminium
Insulation: XLPE
Binder tape: non-hygroscopic material
Filler: non-hygroscopic material
Inner covering(bedding): Extruded PVC
Metallic armor: Galvanized steel wire
Binder tape: non-hygroscopic
Sheath: PVC
The product is suitable for power transmission and distribution lines with rated power frequency voltage 0.6/1 kV.
Rated voltages U0/U(Um): 0.6/1 (1.2)kV.
Note:
U0: Rated power-frequency voltage between conductor and earth or armour, metal sheath or screen for which the cable is suitable.
U: Rated power-frequency voltage between phase conductors for which the cable is suitable.
Um: Maximum value of the highest system voltage between phase conductors for which the cable is suitable.
Test Voltage: 3.5kV 5min No Breakdown, according to IEC60502-1.
The ambient temperature for installation: ≥0℃.
Maximum conductor temperature in normal operation:≤90℃.
Max operating temperature of con. When cable short-circuited(5s maximum duration): 250℃.
Permissible minimum bending radius:
Single unarmoured cable: 20 x OD
Multi-core unarmoured cable: 15 x OD
Single armoured cable: 5 x OD
Multi-core armoured cable: 12 x OD
Note : OD=Overall Diameter of Cable
Product type
General type
VDE type
Description
Application
CU/XLPE/PVC    (AL/ XLPE /PVC)
N2XY(NA2XY)
Cu conductor(Al conductor)XLPE insulated PVC sheathed power cable
Laying indoors, in tunnel, fixed on the bracket, pipe and buried in the soil, the cable cannot bear external mechanical forces.
CU/PVC/PE       (AL/ XLPE /PE)
N2X2Y(NA2X2Y)
Cu conductor(Al conductor)XLPE insulated PE sheathed power cable
CU/ XLPE /STA/PVC (AL/XLPE/STA/PVC)
N2XBY(NA2XBY)
Cu conductor(Al conductor)XLPE insulated double of steel-tape armored PVC sheathed power cable
For laying indoors, in tunnel, cable trench, or direct in ground, able to bear external mechanical forces, but unable to bear large pulling force.
CU/XLPE/STA/PE (AL/XLPE/STA/PE)
N2XB2Y(NA2XB2Y)
Cu conductor(Al conductor)XLPE insulated double of steel-tape armored PE sheathed power cable
CU/XLPE/ATA/PVC (AL/XLPE/ATA/PVC)
N2XBY(NA2XBY)
Cu conductor(Al conductor)XLPE insulated double of aluminum-tape armored PVC sheathed power cable
CU/XLPE/ATA/PE (AL/XLPE/ATA/PE)
N2XB2Y(NA2XB2Y)
Cu conductor(Al conductor)XLPE insulated double of aluminum-tape armored PE sheathed power cable
CU/XLPE/SWA/PVC (AL/XLPE/SWA/PVC)
N2XRY(NA2XRY)
Cu conductor(Al conductor)XLPE insulated steel-wire armored PVC sheathed power cable
For laying indoors, in tunnel, cable trench, well or direct in ground, able to bear external mechanical forces and certain pulling force
CU/XLPE/SWA/PE (AL/PVC/SWA/PE)
N2XR2Y(NA2XR2Y)
Cu conductor(Al conductor)XLPE insulated steel-wire armored PE sheathed power cable
CU/XLPE/AWA/PVC (AL/XLPE/AWA/PVC)
N2XRY(NA2XRY)
Cu conductor(Al conductor)XLPE insulated  aluminum-wire armored PVC sheathed power cable
CU/XLPE/AWA/PE (AL/XLPE/AWA/PE)
N2XR2Y(NA2XR2Y)
Cu conductor(Al conductor)XLPE insulated  aluminum-wire armored PE sheathed power cable
Product parameters
Specification
mm2
 Outer diameter of conductor
mm
Nominal sheath thickness
mm
Approx. outer diameter of cable
mm
Approx. weight of cable
kg/km
CU
AL
1×4 RE
2.24
1.8
16.9
228
204
1×6 RE
2.76
1.8
16.9
258
222
1×10 CC
3.8
1.8
16.9
321
261
1×16 CC
4.8
1.8
17
357
255
1×25 CC
6
1.8
17.4
482
323
1×35 CC
7
1.8
18.4
597
375
1×50 CC
8.4
1.8
19.6
788
487
1×70 CC
10
1.8
21.5
1032
598
1×95 CC
11.5
1.8
23.1
1319
718
1×120 CC
13
1.8
24.7
1657
892
1×150 CC
14.5
1.8
26.7
1960
1048
1×185 CC
16.2
1.8
28.8
2375
1205
1×240 CC
18.4
1.8
31.6
3004
1467
1×300 CC
20.5
1.9
34.2
3655
1722
1×400 CC
23.5
2
39.3
4725
2245
1×500 CC
26.5
2.2
44.3
5837
2686
1×630 CC
30
2.3
50.4
7326
3271
2×4 RE
2.24
1.8
17
582
532
2×6 RE
2.76
1.8
17.1
617
546
2×10 CC
3.8
1.8
18.8
763
637
2×16 CC
4.8
1.8
20.6
948
747
2×25 CC
6
1.8
22.2
1301
988
2×35 CC
7
1.8
23.7
1536
1104
2×50 SM
8
1.8
25.7
1881
1295
2×70 SM
9.5
1.9
29.4
2628
1781
2×95 SM
11
2
32
3247
2074
2×120 SM
12.4
2.2
34.7
3897
2413
2×150 SM
13.8
2.3
38.9
4990
3168
2×185 SM
15.4
2.4
42.2
5927
3638
2×240 SM
17.5
2.6
46.5
6867
4318
2×300 SM
19.6
2.8
51.2
7945
5118
3×4 RE
2.24
1.8
17.1
621
546
3×6 RE
2.76
1.8
17.8
700
591
3×10 CC
3.8
1.8
19.5
885
695
3×16 CC
4.8
1.8
21.5
1141
840
3×25 CC
6
1.8
26.6
1670
1201
3×35 CC
7
1.8
28.8
2033
1384
3×50 SM
8
1.8
31.8
2513
1635
3×70 SM
9.5
2
36.1
3502
2231
3×95 SM
11
2.2
39.4
4392
2632
3×120 SM
12.4
2.3
42.4
5258
3033
3×150 SM
13.8
2.4
46.9
6706
3972
3×185 SM
15.4
2.6
51.5
8104
4671
3×240 SM
17.5
2.7
56.1
10062
5557
3×300 SM
19.6
2.9
60.6
12082
6451
4×4 RE
2.24
1.8
19.1
770
670
4×6 RE
2.76
1.8
20.3
916
772
4×10 CC
3.8
1.8
22.3
1148
895
4×16 CC
4.8
1.8
24.5
1472
1070
4×25 CC
6
1.8
27.5
1942
1317
4×35 CC
7
1.8
29.5
2386
1521
4×50 SM
8
1.9
32.9
3209
2036
4×70 SM
9.5
2.1
36.7
4197
2502
4×95 SM
11
2.3
40.5
5362
3016
4×120 SM
12.4
2.4
45.3
6908
3940
4×150 SM
13.8
2.6
50
8327
4683
4×185 SM
15.4
2.7
54.2
10044
5466
4×240 SM
17.5
2.9
60.4
12672
6666
4×300 SM
19.6
3.1
65.7
15302
7795
3×4+1×2.5 RE
2.24/1.78
1.8
17.4
649
558
3×6+1×4 RE
2.76/2.24
1.8
18.6
769
651
3×10+1×6 CC
3.8/2.76
1.8
20.3
989
763
3×16+1×10 CC
4.8/3.8
1.8
22.5
1270
906
3×25+1×16 CC
6.0/4.8
1.8
27.1
1857
1286
3×35+1×16 CC
7.0/4.8
1.8
29.3
2234
1483
3×50+1×25 SM
8.0/6.0
1.9
31.9
2828
1778
3×70+1×35 SM
9.5/7.0
2
36.3
3928
2420
3×95+1×50 SM
11.0/8.4
2.2
40
4956
2904
3×120+1×70 SM
12.4/10.0
2.3
44.4
6408
3760
3×150+1×70 SM
13.8/10.0
2.5
48.2
7456
4299
3×185+1×95 SM
15.4/11.5
2.6
52.4
9081
5062
3×240+1×120 SM
17.5/13.0
2.8
57.9
11292
6045
3×300+1×150 SM
19.6/14.5
3
63
13648
7106
5×4 RE
2.24
1.8
20.2
925
800
5×6 RE
2.76
1.8
21.6
1098
918
5×10 CC
3.8
1.8
23.8
1399
1083
5×16 CC
4.8
1.8
26.3
1791
1289
5×25 CC
6
1.8
33.5
2488
1706
5×35 CC
7
1.9
37.7
3339
2258
5×50 SM
8
2
38.2
3932
2468
5×70 SM
9.5
2.3
41.9
5122
3004
5×95 SM
11
2.4
47.9
7029
4096
5×120 SM
12.4
2.6
52.2
8487
4778
5×150 SM
13.8
2.7
55
10016
5460
5×185 SM
15.4
2.9
60.5
12218
6495
5×240 SM
17.5
3.1
66.5
15353
7845
5×300 SM
19.6
3.4
73.7
19419
10034
4×4+1×2.5 RE
2.24/1.78
1.8
19.6
826
710
4×6+1×4 RE
2.76/2.24
1.8
20.8
986
815
4×10+1×6 CC
3.8/2.76
1.8
22.8
1238
949
4×16+1×10 CC
4.8/3.8
1.8
25.2
1603
1138
4×25+1×16 CC
6.0/4.8
1.8
29
2183
1460
4×35+1×16 CC
7.0/4.8
1.8
32.9
2720
1748
4×50+1×25 SM
8.0/6.0
2
37.8
3844
2442
4×70+1×35 SM
9.5/7.0
2.2
41.5
4902
2939
4×95+1×50 SM
11.0/8.1
2.3
47.4
6683
4003
4×120+1×70 SM
12.4/9.8
2.5
51.5
8098
4672
4×150+1×70 SM
13.8/9.8
2.6
54.3
9453
5279
4×185+1×95 SM
15.4/11.4
2.8
59.8
11457
6254
4×240+1×120 SM
17.5/12.9
3
65.5
14205
7477
3×4+2×2.5 RE
2.24/1.78
1.8
19.3
806
700
3×6+2×4 RE
2.76/2.24
1.8
20.6
947
788
3×10+2×6 CC
3.8/2.76
1.8
22.4
1178
916
3×16+2×10 CC
4.8/3.8
1.8
24.7
1524
1096
3×25+2×16 CC
6.0/4.8
1.8
28.9
2095
1429
3×35+2×16 CC
7.0/4.8
1.8
32.9
2558
1705
3×50+2×25 CC
8.0/6.0
1.9
37.6
3594
2347
3×70+2×35 CC
9.5/7.0
2.1
41.4
4573
2829
3×95+2×50 CC
11.0/8.1
2.3
45.9
5800
3402
3×120+2×70 CC
12.4/9.8
2.4
51.3
7608
4493
3×150+2×70 CC
13.8/9.8
2.5
54
8676
5000
3×185+2×95 CC
15.4/11.4
2.7
59.5
10535
5894
3×240+2×120 CC
17.5/12.9
2.9
65.3
13038
7056
3×300+2×150 CC
19.6/14.5
3.1
71.1
15751
8275
Range of production
Number of cores: 1, 2, 3, 4, 5, 2+E, 3+E, 4+E;
Nominal cross-section (mm2): 0.5 ~ 800;