USE-2 RHH RHW Electrical Industrial Cable
UL Standard Copper conductor or Aluminum conductor RHH cable and RHW cable
Application
This cable is most commonly used within an electrical raceway such as conduit. Conduit is a tube or trough that channels the cable and further protects it from obstacles and abrasion. Conduit can be made of metal or plastic, the best option depending on the task at hand. RHH cable is most suitable for dry locations such as desert regions and should not be used in temperatures over 90°C. RHW-2 and USE-2 are suitable for both wet and dry locations and can tolerate temperatures up to 90°C. Type USE-2 conductors can be used for direct burial for service entrance cable.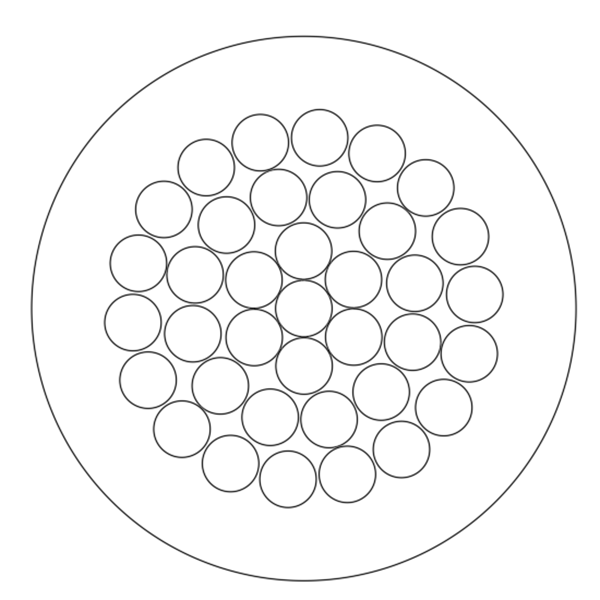 Conductor: Plain annealed stranded copper conductor/ Stranded aluminium or aluminium alloy 8000 series conductor.
Insulation: Black Cross-linked polyethylene(XLPE). Sunlight-resistant.
Rated voltages: 600V.
Maximum conductor temperature:90℃ dry or wet .
Product parameters for copper cable
Size
AWG or MCM
Conductor construction
Average Thickness of
Insulation
mm
Approx. Overall
Diameter
mm
Approx. Weight of Cable
kg/km
Maximum Conductor DC Resistance 20℃
Ω/km
No. of Strands
14
7
1.14
4.1
31
8.63
12
7
1.14
4.5
45
5.46
10
7
1.14
5.1
65
3.42
8
7
1.52
6.7
107
2.144
6
7
1.52
7.5
158
3.348
4
7
1.52
8.7
232
0.8481
2
7
1.52
10.2
354
0.5335
1
19
2.03
12.3
460
0.423
1/0
19
2.03
13.3
567
0.3354
2/0
19
2.03
14.4
702
0.266
3/0
19
2.03
15.7
872
0.211
4/0
19
2.03
17.1
1085
0.167
250
37
2.41
19.1
1290
0.141
300
37
2.41
20.4
1531
0.118
350
37
2.41
21.7
1772
0.1011
400
37
2.41
22.8
2012
0.0886
500
37
2.41
25
2491
0.0787
600
61
2.79
27.7
2994
0.059
750
61
2.79
30.3
3708
0.0473
800
61
2.79
31.1
3946
0.0443
900
61
2.79
32.6
4419
0.0394
1000
61
2.79
34
4893
0.0354
Product parameters for aluminium cable
Size
AWG or MCM
Conductor construction
Average Thickness of
Insulation
mm
Approx. Overall
Diameter
mm
Approx. Weight of Cable
kg/km
Maximum Conductor DC Resistance 20℃
Ω/km
No. of Strands
8
7
1.52
6.5
54
3.515
6
7
1.52
7.4
73
2.211
4
7
1.52
8.5
97
1.39
2
7
1.52
9.9
140
0.8745
1
19
2.03
11.7
187
0.6934
1/0
19
2.03
12.7
225
0.5498
2/0
19
2.03
13.7
271
0.4361
3/0
19
2.03
14.9
329
0.345
4/0
19
2.03
16.2
400
0.277
250
37
2.41
18.1
485
0.232
300
37
2.41
19.4
567
0.1935
350
37
2.41
20.5
647
0.1659
400
37
2.41
21.6
726
0.145
500
37
2.41
23.6
885
0.1289
700
61
2.79
27.9
1234
0.083
750
61
2.79
28.7
1311
0.0774
1000
61
2.79
32.6
1704
0.058