Stranded cable Single core biulding wire H05V-U, H05V-R, H05V-K
Application
Installation in surface mounted or embedded conduits, or similar closed systems. Suitable for fixed protected installation in, or on, lighting or control gear for voltages up to 1000V a.c. or, up to 750V d.c. to earth.
DIN VDE 0281-3, BS 6004, EN 50525-2-31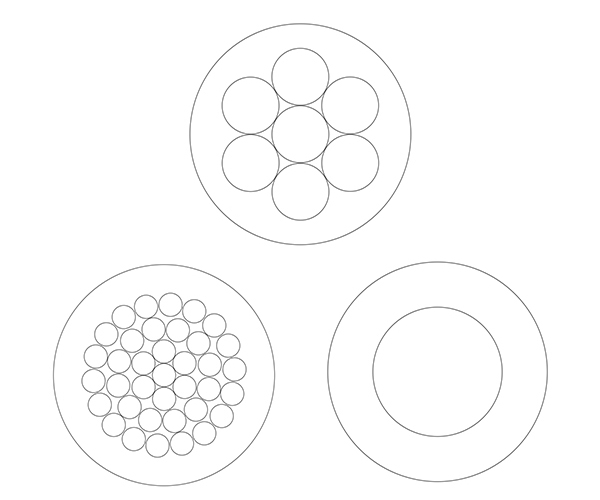 Conductor:
Class 1 solid copper annealed conductor for H05V-U;
Cass 2 stranded rigid annealed copper conductor for H05V-R;
Class 5 stranded flexible annealed copper conductor for H05V-K;
The conductors shall comply with the requirements given in IEC 60228.
Insulation:
PVC compound type TI 1
Color of insulation: green/yellow, blue, black, brown or as customer required
Rated voltages U0/U: 300/500V.
Note:
U0: Rated power-frequency voltage between conductor and earth or armour, metal sheath or screen for which the cable is suitable.
U: Rated power-frequency voltage between phase conductors for which the cable is suitable.
Maximum conductor operating temperature: +70℃
Maximum short circuit conductor temperature: +160℃
Test voltage: 2000V
Nom. cross-sectional area
mm2
No. And dia. of strands
No./mm
Thickness of insulation
mm
Mean overall diameter
Max. DC resistance
of conductor at 20℃
Ω/km
Min. insulation resistance at 70℃
MΩ.km
Lower limit
mm
Upper limit
mm
H05V-U
0.5
1/0.80
0.6
1.9
2.3
36.0
0.014
0.75
1/0.97
0.6
2.1
2.5
24.5
0.013
1
1/1.13
0.6
2.2
2.7
18.1
0.011
H05V-R
0.5
7/0.3
0.6
2.0
2.4
36.0
0.014
0.75
7/0.37
0.6
2.2
2.6
24.5
0.012
1
7/0.42
0.6
2.3
2.8
18.1
0.011
H05V-K
0.5
16/0.20
0.6
2.1
2.5
39.0
0.013
0.75
24/0.20
0.6
2.2
2.7
26.0
0.011
1
32/0.20
0.6
2.4
2.8
19.5
0.010