Bare Copper Stranded Conductor ( BCC )
Overhead transmission Bare Copper Conductor
Application
Stranded Class 2 bare copper wire to BS EN 60228 / IEC 60228 cables are non insulated and non sheathed soft drawn copper to BS6360/81. Stranded bare soft or annealed copper conductors are recommended for use as neutrals, in circuit ground connections as well as machinery and equipment grounding systems. Soft copper may be used for transformer drop leads or other non-tension hook-up jumpers.
Solid and stranded (classes AA and A) bare copper are suitable for overhead transmission and distribution applications. Stranded conductor of greater flexibility (classes B and C) are suitable for uninsulated hook up, jumpers, and grounds in electrical construction. Soft Drawn copper is unilay construction.
BS 6360 and BS EN 60228 / IEC 60228
ASTM B-1 Hard-Drawn Copper Wire.
ASTM B-2 Medium-Hard Copper Wire.
ASTM B-3 Soft or Annealed Copper Wire.
ASTM B-787 19 Wire Combination Unilay-Stranded Soft copper wire.
ASTM B-8 Concentric-Lay-Stranded Hard, Medium-Hard or Soft Copper Conductor.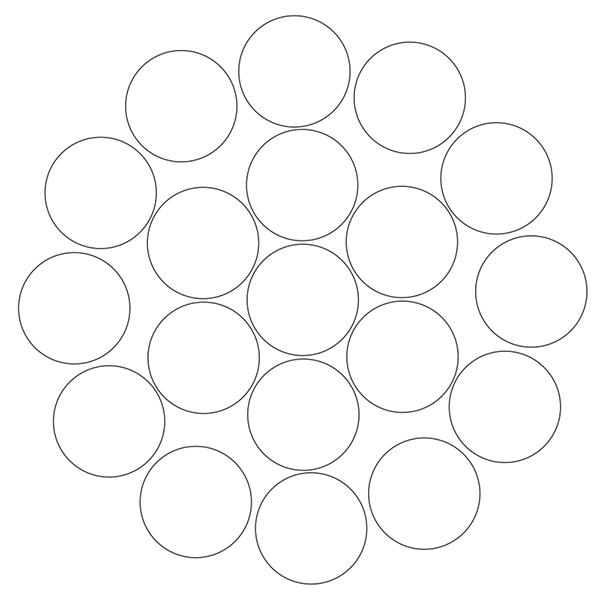 Bare copper, solid or stranded. Available in tempers hard, medium-hard, or soft. Stranded conductors are concentrically stranded in hard and medium-hard tempers and are Combination Unilay stranded in the soft-drawn temper.
Stranded bare soft or annealed copper conductors are suitable for direct burial and do not suffer from the inherent corrosion problems that an aluminum conductor would. Copper is almost twice as conductive as aluminum. Copper is easier than aluminum to terminate and join at splices and joints.
Bare Copper Stranded Conductors (Hard Drawn)-ASTM B8 Standard
Size
AWG or MCM
or KCMIl
Actual cross-sectional area
mm2
Number
of single wire
Diameter of single wire
mm
Nominal Overall    Diameter
mm
Approximate weight
kg/km
Current
Rating
A
10
5.3
7
0.98
3.27
48
50
8
8.3
7
1.23
3.69
76
95
6
13.4
7
1.56
4.68
121
130
4
21.1
7
1.96
5.88
192
170
3
26.6
7
2.2
6.6
242
200
2
33.5
7
2.47
7.41
305
230
1
42.5
7
2.78
8.34
384
265
1/0
53.5
7
3.12
9.35
485
310
1/0
54.4
19
1.91
9.47
485
310
2/0
67.7
7
3.51
10.52
611
355
2/0
67.7
19
2.13
10.62
611
355
3/0
85.3
7
3.94
11.79
771
410
3/0
85.2
19
2.39
11.94
771
410
4/0
107.4
7
4.42
13.26
972
480
4/0
108
19
2.69
13.41
972
480
250
127.2
19
2.92
14.58
1149
530
250
125.7
37
2.08
14.61
1149
530
300
152.8
19
3.2
15.95
1378
590
300
152.4
37
2.29
16
1378
590
350
177.6
19
3.45
17.25
1609
650
350
175.9
37
2.46
17.3
1609
650
400
203.2
19
3.69
18.42
1838
—
400
202.5
37
2.64
18.49
1838
—
500
252.9
37
2.95
20.68
2297
810
600
303.2
37
3.23
22.63
2757
910
381750
381
61
2.82
25.35
3446
1040
5061000
506
61
3.25
29.26
4595
1240
6311250
631.3
61
3.63
32.84
5742
1451
6221250
622
91
2.95
32.74
5742
1430
7591500
758.9
61
3.98
35.84
6891
1669
7551500
754.9
91
3.25
35.86
6891
1669
Bare Copper Stranded Conductors (Hard Drawn)-DIN 48201-1 Standard
Nominal cross-sectional area
mm2
No./Diameter of single wire
mm
Nominal overall diameter
mm
Approximate weight of cable
kg/km
Nominal Breaking Load
Kn
Maximum DC
Resistance at 20℃
Ω/km
10
7/1.35
4.05
90
4.292
1.8054
16
7/1.70
5.1
125
6.801
1.1385
25
7/2.14
6.42
160
10.545
0.7185
35
7/2.52
7.56
200
14.298
0.5181
50
7/3.02
9.06
250
20.531
0.3589
50
19/1.78
8.9
250
19.806
0.3825
70
19/2.14
10.7
310
28.626
0.2646
95
19/2.52
12.6
380
38.818
0.1918
120
19/2.85
14.25
440
49.657
0.1492
150
37/2.25
15.75
510
61.632
0.1238
185
37/2.52
17.64
585
75.587
0.0981
240
61/2.25
20.25
700
101.616
0.0752
300
61/2.52
22.68
800
124.627
0.06
400
61/2.85
25.65
960
159.407
0.0469
500
61/3.20
28.8
1110
200.959
0.037