0.6/1kV Service Drop Cable
Low voltage American Standard Overhead Service Drop Cable
Application
Primarily used as overhead cable or air cable for 120volt overhead service applications such as street lighting, outdoor lighting, and temporary service for construction. To be used at voltages of 600 volts phase-to-phase or less and at conductor temperatures not to exceed 75°C for polyethylene insulated conductors or 90°C for cross-linked polyethylene (XLPE) insulated conductors.
ASTM B-230-Aluminum 1350-H19 wire for electrical purposes
ASTM B-398-Aluminum alloy 6201-T81 wire for electrical purposes
ASTM B-399-Concentric-lay-stranded 6201-T81 aluminum alloy conductors
ASTM B-231-Concentric-lay-stranded aluminum conductors, coated-steel reinforced (ACSR).
ICEA S-76-474-Standards for neutral-supported power cable assemblies with weather-resistant extruded insulation rated 600 volts.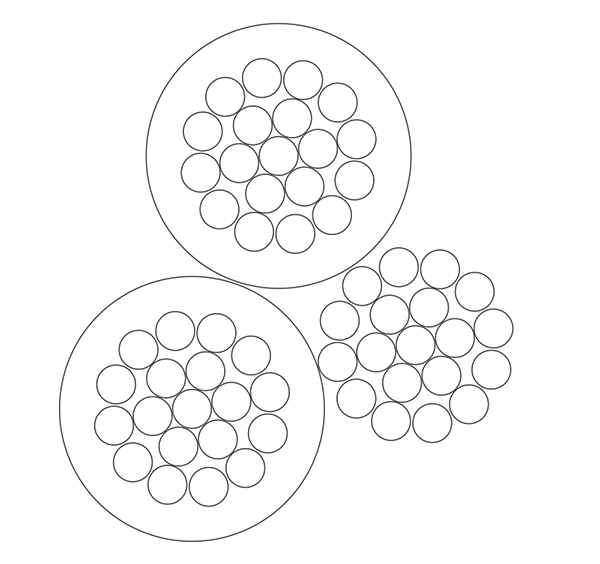 Phase conductors: AAC/AAAC/ACSR.
Insulation: PE/XLPE/PVC, UV-resistant.
Bare neutral-supported: AAC/AAAC/ACSR
Voltage rating: 600V
Test voltage: 4kV, 5min no breakdown
Operating temperature:
PVC: -15°C to +75°C
PE: -40°C to +75°C
XLPE: -40°C to +90°C
Minimum laying/installation temperature:
PVC: 0°C
PE: -20°C
XLPE: -20°C
Minimum bending radius:12 x OD (overall diameter)
Core identification: numbers or ribs or colors stripe.
Service Drop Cable (Duplex) ANSI/ICEA S-76-474
Code word
Phase Conductors
Bare Neutral
Nominal Weight
kg/km
Max. DC Phase Conductor     resistance at 20℃
Ω/km
Ampacity
A
Size & Number of Wires
Nominal Diameter
mm
Size & Number of Wires
Bare Neutral: AAC
Pekingese
6-1
6.4
6-7
94
2.2126
78
Collie
6-7
6.9
6-7
97
2.2126
78
Cocker
6-7
7.7
6-7
106
2.2126
78
Dachshund
4-1
7.5
4-7
141
1.3896
103
Spaniel
4-7
8.2
4-7
146
1.3896
103
Cairn
4-7
8.9
4-7
156
1.3896
103
Doberman
2-7
9.7
2-7
223
0.8749
136
Airedale
1-19
11.5
1-7
290
0.6934
158
Basset
1/0-7
12.4
1/0-7
359
0.5498
182
Malemure
1/0-19
12.5
1/0-7
359
0.5498
182
Bare Neutral: AAAC
Chihuahua
6-1
6.4
6-7
94
2.5703
78
Vizsla
6-7
6.9
6-7
97
2.5703
78
Harner
4-1
7.5
4-7
143
1.3896
103
Whippet
4-7
8.2
4-7
146
1.3896
103
Schnauzer
2-7
9.7
2-7
223
0.8749
136
Afghan
1/0-7
12.4
1/0-7
360
0.5498
182
Heeler
1/0-19
12.5
1/0-7
360
0.5498
182
Bare Neutral: ACSR
Setter
6-1
6.4
6-6/1
94
2.2126
78
Shepherd
6-7
6.9
6-6/1
97
2.2126
78
Retriever
6-7
7.7
6-6/1
106
2.2126
78
Eskimo
4-1
7.5
4-6/1
141
1.3896
103
Terrier
4-7
8.2
4-6/1
146
1.3896
103
Yorkshire
4-7
8.9
4-6/1
156
1.3896
103
Chow
2-7
9.7
2-6/1
223
0.8749
136
Labrador
1-19
11.5
1-6/1
290
0.6934
158
Bloodhound
1/0-7
12.4
1/0-6/1
359
0.5498
182
Bull
1/0-19
12.5
1/0-6/1
359
0.5498
182
Service Drop Cable (Triplex) ANSI/ICEA S-76-474
Code word
Phase Conductors
Bare Neutral
Nominal Weight
kg/km
Max. DC Phase Conductor     resistance at 20℃
Ω/km
Ampacity
A
Size & Number of Wires
Nominal Diameter
mm
Size & Number of Wires
Bare Neutral: AAC
Halotis
6-1
6.4
6-7
152
2.2126
78
Pike
6-7
6.2
6-7
143
2.2126
78
Patella
6-7
7.0
6-7
159
2.2126
78
Albus
6-7
7.7
6-7
198
2.2126
78
Fusus
4-1
7.5
4-7
229
1.3896
103
Oyster
4-7
8.2
4-7
237
1.3896
103
Argo
4-7
8.9
4-7
258
1.3896
103
Clam
2-7
9.7
2-7
359
0.8749
136
Thia
2-7
10.5
2-7
383
0.8749
136
Mussel
2-7
9.7
2-7
359
0.8749
136
Pyrula
1-7
11.4
1-7
467
0.6934
158
Hyas
1-19
11.5
1-7
469
0.6934
158
Murex
1/0-7
12.4
1/0-7
513
0.5498
182
Purpura
1/0-19
12.5
1/0-7
515
0.5498
182
Nasa
2/0-7
13.6
2/0-7
710
0.4361
210
Trophon
2/0-19
13.7
2/0-7
713
0.4361
210
Quahog
3/0-7
15.9
3/0-7
926
0.3458
242
Ione
3/0-19
16.0
3/0-7
929
0.3458
242
Melita
3/0-19
15
3/0-19
881
0.3458
242
Coquina
4/0-7
16.3
4/0-7
1089
0.2742
279
Tusk
4/0-7
17.3
4/0-7
1141
0.2742
279
Apus
4/0-19
17.5
4/0-7
1144
0.2742
279
Portunus
4/0-19
16.5
4/0-19
1091
0.2742
279
Chiton
266.8-19
18.9
266.8-19
1409
0.2176
310
Nannynose
336.4-19
21
336.4-19
1749
0.1725
330
Bare Neutral: AAAC
Homarus
6-1
6.4
6-7
159
2.2126
78
Minex
6-1
13.3
6-7
159
2.2126
78
Cabera
6-7
6.9
6-7
165
2.2126
78
Hippa
6-7
6.9
6-7
165
2.2126
78
Artemia
4-1
7.5
6-7
214
1.3896
103
Maira
4-7
8.2
6-7
247
1.3896
103
Crab
4-7
8.2
6-7
222
1.3896
103
Luidia
4-1
7.5
6-7
214
1.3896
103
Prawn
4-1
7.5
4-7
240
1.3896
103
Metalia
4-7
8.2
4-7
247
1.3896
103
Barnacles
4-7
8.2
4-7
247
1.3896
103
Solaster
2-7
9.7
4-7
333
0.8749
136
Pagarus
2-7
10.5
4-7
357
0.8749
136
Shrimp
2-7
9.7
2-7
374
0.8749
136
Lobster
2-7
10.5
2-7
397
0.8749
136
Encope
1-19
11.5
2-7
461
0.6934
158
Sanderab
1/0-7
12.4
2-7
537
0.5498
182
Echinus
1/0-19
12.5
2-7
539
0.5498
182
Gammarus
1/0-7
12.4
1/0-7
601
0.5498
182
Leda
1/0-19
12.5
1/0-7
603
0.5498
182
Crayfish
2/0-7
13.6
2-7
631
0.4361
210
Sipho
2/0-19
13.7
2-7
634
0.4361
210
Dungenese
2/0-7
13.6
2/0-7
740
0.4361
210
Cyclops
2/0-19
13.7
2/0-7
743
0.4361
210
Slug
3/0-7
14.8
1/0-7
816
0.3458
242
Fulgur
3/0-19
15
1/0-7
819
0.3458
242
Balanus
3/0-19
16
1/0-7
868
0.3458
242
Stonecrab
3/0-7
14.8
3/0-7
917
0.3458
242
Flustra
3/0-7
15
3/0-7
920
0.3458
242
Crisia
3/0-19
16
3/0-7
969
0.3458
242
Squid
4/0-7
16.3
2/0-7
1011
0.2742
279
Arca
4/0-19
16.5
2/0-7
1012
0.2742
279
Bugula
4/0-19
17.5
2/0-7
1066
0.2742
279
Kingerab
4/0-7
16.3
4/0-7
1137
0.2742
279
Lepas
4/0-19
16.5
4/0-7
1140
0.2742
279
Cassi
4/0-19
17.5
4/0-7
1194
0.2742
279
Bare Neutral: ACSR
Paludina
6-1
6.401
38869
170
2.2126
79
Voluta
6-7
6.96
38869
176
2.2126
79
Bolma
6-7
7.722
38869
194
2.2126
79
Scallop
4-1
7.468
38869
225
1.3896
138
Strombus
4-7
8.179
38869
232
1.3896
138
Carnea
4-7
8.941
38869
253
1.3896
138
Whelk
4-1
7.468
38139
258
1.3896
138
Periwinkle
4-7
8.179
38139
263
1.3896
138
Calma
2-7
8.941
38139
284
1.3896
138
Cockle
2-7
8.179
38139
335
0.8749
183
Gebia
2-7
8.941
38139
354
0.8749
183
Conch
2-7
8.179
37408
384
0.8749
183
Uca
2-7
8.941
37408
405
0.8749
183
Vermeths
1-7
11.379
37043
522
0.6934
210
Atya
1-19
11.379
37043
524
0.6934
210
Janthina
1/0-7
11.379
37408
549
0.5498
242
Ranella
1/0-19
12.522
37408
566
0.5498
242
Neritina
1/0-7
12.395
1/0-6/1
644
0.5498
242
Cenia
1/0-19
12.522
1/0-6/1
646
0.5498
242
Cavolinia
2/0-7
13.564
37043
697
0.4361
279
Clio
2/0-19
13.691
37043
698
0.4361
279
Runcina
2/0-7
13.564
2/0-6/1
796
0.4361
279
Triton
2/0-19
13.691
2/0-6/1
799
0.4361
279
Sanddollar
3/0-7
14.834
1/0-6/1
860
0.3458
322
Aega
3/0-19
14.986
1/0-6/1
862
0.3458
322
Pisa
3/0-19
16.002
1/0-6/1
911
0.3458
322
Cherrystone
3/0-7
14.834
3/0-6/1
987
0.3458
322
Mursia
3/0-19
14.986
3/0-6/1
990
0.3458
322
Mysis
3/0-19
16.002
3/0-6/1
990
0.3458
322
Cuttlefish
4/0-7
16.307
2/0-6/1
1066
0.2742
372
Cerapus
4/0-19
16.459
2/0-6/1
1069
0.2742
372
Nepatus
4/0-19
17.475
2/0-6/1
1121
0.2742
372
Razor
4/0-7
16.307
4/0-6/11
1225
0.2742
372
Zuzara
4/0-19
16.459
4/0-6/1
1229
0.2742
372
Alima
4/0-19
17.475
4/0-6/1
1281
0.2742
372
Callista
266.8-19
19.126
3/0-6/1
1384
0.2176
410
Service Drop Cable (Quadruplex) ANSI/ICEA S-76-474
Code word
Phase Conductors
Bare Neutral
Nominal Weight
kg/km
Max. DC Phase Conductor     resistance at 20℃
Ω/km
Ampacity
A
Size & Number of Wires
Nominal Diameter
mm
Size & Number of Wires
Bare Neutral: AAC
Quarter
6-1
6.401
6-7
211
2.2126
78
Clydesdate
4-1
7.468
4-7
315
1.3896
103
Pinto
4-7
8.179
4-7
326
1.3896
136
Mustang
2-7
9.703
2-7
491
0.8749
158
Shire
1-19
11.481
1-19
646
0.6934
158
Libyan
1/0-7
12.395
1/0-7
790
0.5498
182
Criollo
1/0-19
12.522
1/0.19
793
0.5498
182
Orloff
2/0.7
13.564
2/0-7
973
0.4361
210
Percheron
2/0-19
13.691
2/0-19
976
0.4361
210
Mongolian
3/0-7
14.834
3/0-7
1199
0.3458
242
Hanoverian
3/0-19
14.986
3/0-19
1204
0.3458
242
Singlefoot
4/0-7
16.307
4/0-7
1485
0.2742
279
Oldenburg
4/0-19
16.459
4/0.19
1490
0.2742
279
Bare Neutral: AAAC
Bay
6-1
6.401
6-7
217
2.2126
78
French-conch
6-7
6.960
6-7
226
2.2126
78
German-conch
4-1
7.468
4-7
324
1.3896
103
Arabian
4-7
8.179
4-7
336
1.3896
103
Belgian
2-7
9.703
2-7
506
0.8749
136
Saddle
1-19
11.481
2-7
637
0.6934
158
Plow
1/0-7
12.395
1/0-7
814
0.5498
182
Sherland
1/0-19
12.522
1/0-7
817
0.5498
182
Dapple-grey
2/0.7
13.564
2/0-7
1005
0.4361
210
Thoroughbred
2/0-19
13.691
2/0-7
1007
0.4361
210
Dobbin
3/0-7
14.834
3/0-7
1238
0.3458
242
Trotter
3/0-19
14.986
3/0-7
1243
0.3458
242
Pony
4/0-7
16.307
4/0-7
1534
0.2742
279
Walking
4/0-19
16.459
4/0-7
1539
0.2742
279
Bare Neutral: ACSR
Morochuca
6-1
6.401
6-6/1
229
2.2126
78
Chola
6-7
6.960
6-6/1
237
2.2126
78
Morgan
4-1
7.468
4-6/1
344
1.3896
103
Hackney
4-7
8.179
4-6/1
356
1.3896
103
Palomino
2-7
9.703
2-6/1
557
0.8749
136
Albino
1-19
11.481
1-6/1
699
0.6934
158
Standardbred
1/0-7
12.395
1/0-6/1
859
0.5498
182
Costena
1/0-19
12.522
1/0-6/1
862
0.5498
182
Chicoteagues
2/0.7
13.564
2/0-6/1
1060
0.4361
210
Grullo
2/0-19
13.691
2/0-6/1
1063
0.4361
210
Mare
3/0-7
14.834
3/0-6/1
1306
0.3458
242
Suffolk
3/0-19
14.986
3/0-6/1
1313
0.3458
242
Stallion
4/0-7
16.307
4/0-6/1
1622
0.2742
279
Appaloosa
4/0-19
16.459
4/0-6/1
1627
0.2742
279